Want to comment on articles?
All are welcome to participate in Hamradio.me using the comment feature. The IntenseDebate system is independent from the usual "blog" user accounts on this web site. You will need an account with the IntenseDebate system. Follow the links in the comment section, example below, to set up your account.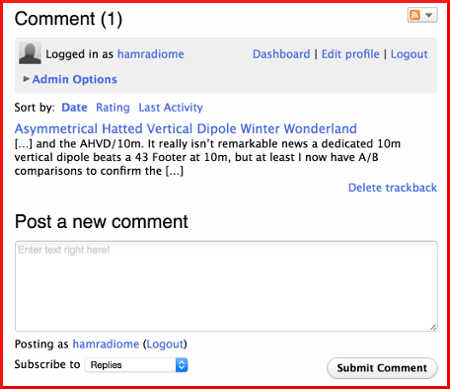 IntenseDebate is working very well for the comment needs of this web site.
Want to write for hamradio.me?
We welcome new authors to hamradio.me. Account generation is often automated in blog sites such as this. However, the amount of bogus accounts that result require a different approach. If you would like an account please send:
Callsign:
Name:
Email Address:
Desired Username: (callsign preferred)
Links to some previous works authored by you.
…to my attention accounts@hamradio.me and we, after confirmation and review, will set up an account and email a password to you.
John