Question
Does the 2BCX Slim Jim antenna live up to the oft touted more gain or better takeoff angle over a traditional j-pole?
Answer
Nope.
Why?
Measurements, simulations, a college paper and Fred Judd's own article suggest otherwise.  Would you like to know more?  Read on…
…but first…
"Slim Jim" – What does the name mean?
Fred Judd, G2BCX, writes…
"The name 'Slim Jim' stems from its slender construction (it is only 60 inches long for 2 metre operation) and the use of a J type Integrated Matching stub (JIM) that facilitates feeding the aerial at the base, thus overcoming any problem of interaction between feed and aerial." [1]
All J-poles are slim.  All J-poles have an integrated matching stub.  This description aptly describes the traditional J-pole antenna quite well.
A 1936 patent by Laurance McConnell Leeds shows an unbalanced feeding method of the J-pole antenna and describes the matching stub as prior art.  While referring to the element of the stub Leeds writes…
"An impedance matching section of this type is particularly well suited for connecting the transmission line to the [end of the half-wave] antenna since it has a very low impedance at its closed end and a relatively high impedance at its open end." [1]
…and later…
"To achieve this result [. . .] the transmission line at the point where it is connected to the impedance matching section must look into an impedance which is equal to the surge impedance of the transmission line." [1]
If the JIM moniker describes the 1/4 wave stub inherent in every J-pole antenna, one can argue the term "Slim Jim" describes J-pole antennas as they have been since or before 1936.
Judd continues to describe how the antenna works…
"How the 2BCX 'Slim Jim' operates

Basically it is an end-fed, vertically operated, folded dipole[. . .]" [2]
Here Judd introduces what appears to be his preferred full name "2BCX Slim Jim" and the first notional difference between a regular J and his design: An end-fed dipole vs. end-fed folded dipole.  At the end of his article he states…
"Please note the name '2BCX Slim Jim' is copyright and the design is exclusively that of the writer." [2]
Ignoring the fact copyrights don't easily apply to what he seems to want to be a short trade name and the design entered the public domain shortly after its publication by the well established prior-art conventions, Judd seems to be carefully ensuring the proper name of his antenna design is "2BCX Slim Jim."
To summarize these thoughts, Judd tells us…
JIM refers to balanced feeding of half-wave element by feeding a quarter-wave stub and is what any J-pole antenna uses – and has done so perhaps for many decades,
Slim Jim, by his definition, is any half-wave dipole antenna fed with a quarter-wave stub with the feedline across a portion of the stub to find an optimal impedance – this includes the traditional J-pole, Zepp, etc.
2BCX Slim Jim is the proper name for the j-pole antenna using a folded dipole as the half-wave radiator.
Antenna pattern measurements
Yes that's right… real antenna measurements of each antenna in a real test chamber will help us understand the behavior of the J-pole and 2BCX Slim Jim antennas.  Judd used 650 MHz models in his comparison between his 2BCX Slim Jim and a 5/8 wave antennas.[2]  I compared his design to a traditional J-pole – a more apples to apples comparison.  My models are proportioned for 1 GHz and made with 0.8 mm wire.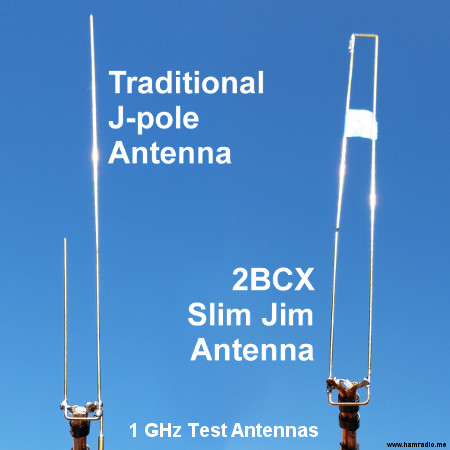 In both my models, I feed the quarter wave stub with a Folded Balun (aka Pawsey Stub) with orientation perpendicular to the antenna such that any small radiation from the feed won't add to the polarization shown in the graph below.
Let's have a look at an elevation cut of the traditional J-pole and the 2BCX Slim Jim antennas – note the open J stub faces left for both antennas.
Taking into account the +/- 1 dB margin of error in typical antenna chambers, we in the antenna biz call these two patterns: identical for all practical purposes.
The Slim Jim pattern maintains the classic J-pole slightly-lopsided shape with the slightly stronger and slightly higher lobe in the direction of the J stub.  In other words, it does the same thing as the traditional J-pole… all the while using more construction materials 🙁
Simulations agree
Simulations reveal the 2BCX Slim Jim has never operated different than a traditional j-pole antenna.  To check this more thoroughly I ran these four configurations in NEC to see the differences.  Cebik did this analysis as well in his extensive body of antenna work, but those results are no longer freely available on the Internet.  It took less than an hour to repeat the analysis using 4nec2.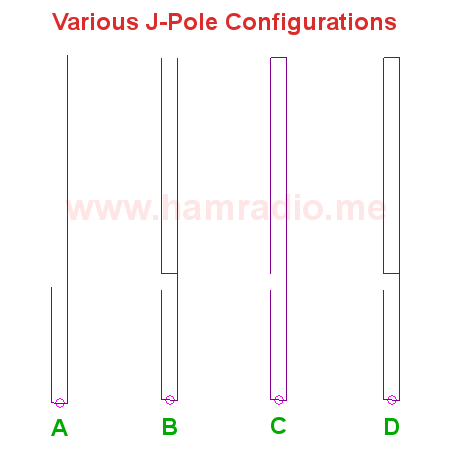 Here we have the following antennas all trimmed and tweaked to resonate at 1 GHz using the 0.8 mm wire:
Figure 3A – Traditional J antenna.
Figure 3B – One element in parallel with the upper half-wave element and connecting at the bottom.
Figure 3C – The 2BCX Slim Jim with one element parallel with the upper half-wave element and connecting at the top.
Figure 3D – One element in parallel with the upper half-wave element and connecting at both top and bottom.
If you look close, the traditional J-pole is slightly longer than the other three.  The twin wires make for a fatter conductor, wrap the length around a bit, and tends to be shorter for a given frequency… no surprise there.  Now for the elevation patterns of all four antennas…
These agree well with the real j-pole and 2BCX antennas measured in a real antenna test chamber in figure 2.  At this point it's pretty crystal clear Fred Judd's 2BCX Slim Jim antenna doesn't offer anything special compared to a traditional J-pole antenna.
What Judd actually compared
In Judd's defense, he never made the claim his Slim Jim design has more gain than a regular J-Pole in his article.[2]  In the first paragraph he says…
"[The Slim Jim] has a radiation efficiency 50% better than a conventional ground plane due to its low angle radiation[. . .]" [2]
The "conventional ground plane" he compared to the Slim Jim is a 5/8 wave antenna of some sort.  The benefits in this case were almost entirely from a beneficial take off angle, not any actual higher gain.  Judd also mentions the propensity of an antenna with radials to elevate the radiation angle a bit…
With all ground plane aerials, including those with radials of more than 1/2 inch length, radiation is tilted to an average angle of 30 [degrees] or more.[2]
Indeed, my earlier measurements of two 1/4 wave monopoles, one with flat radials, the other on a large conductive sheet show this behavior…
Interestingly, simulations of the above monopole with radials do not reveal the elevated angle of radiation, rather it shows the textbook doughnut shape.  However, by adding the effect of the feedline to the monopole with radials, the simulation agrees with the above measurements.  Feedlines… gotta love em… gotta hate em.  Note the monopole angle of radiation increase, while obvious, isn't tragic.  However, the J-pole antenna shows a slight beneficial angle of radiation because, in my opinion, J-pole users are well taught to address feedline radiation with a choke.
Some hams get it
WB6BYU concludes a very nice explanation on E-Ham…
[. . .] the Slim-JIM has no reason to work any better than a dipole, standard J-pole, or a quarter wave ground plane with sloping radials.  Any variations measured among them will more likely be to differences in common mode current, to which they are all susceptible.[3]
Anyway… somewhere, somehow Judd's published comparison morphed (likely via Chinese Whispers) from "Slim Jim & 5/8 wave" to "Slim Jim and J-pole." The later has been copied many times on the Internet – here is one example – [UPDATE: now a dead link – click here for archive]. This has become a classic example of why the phrase "It's on the Internet so it must be true" is bogus.
In fairness to casual antenna researchers, this myth has soaked so well into the Internet landscape, it's hard to dig out the truth…
…even in academia…
Academic research – beware the bias
To wit check out these comments from the appropriately titled "college" paper[4] about this very topic…
Comparative Analysis of Slim Jim Antenna for Ham Radio Applications
From the abstract:
"Due to the addition of a parallel element, the Slim Jim antenna has a considerable horizontal gain over the Jpole antenna."[4]
Sounds promising.  The students setup and evaluate with HFSS a dipole, a folded dipole, a j-pole and a 2BCX Slim Jim.  From their comprehensive data they summarize both the j-pole and 2BCX Slim Jim have a slight advantage over the dipoles and then subject the j-pole and 2BCX Slim Jim to a death match in their Table-5:
| Parameters | J-Pole | Slim Jim |
| --- | --- | --- |
| Gain (dB): | 2.9040 | 3.0983 |
| Directivity (dB): | 2.9918 | 3.1355 |
dB?!?  Sigh.  Ignoring the lack of using dBi for the moment, the numbers reveal the 2BCX Slim Jim outperforms the J-pole in "directivity" by 4.8% and "gain" by a whopping 6.7% or about 0.2 dB difference –  1/5th dB?!? Yee Haw!  The unreported margin of error is likely +/- more than 1/5 dB; It's certainly not +/- .0001 dB as the data presentation might have you believe.  I have seen this slight increase in some of my NEC models as well, but come on, differences this low are essentially imperceptible in the real world unless you're in the "every dB is sacred" EME fraternity.
Additionally Figures 14 and 20 in their paper give the takeoff angle advantage ever so slightly to the J-pole.
Despite all this their conclusion is…
[. . .] the Slim Jim antenna provides substantially more gain than the J-Pole antenna,[. . .] [4]
Emphasis added.  Equating 0.2 dB to substantially more gain is a stretch and a bit of an outcome bias in my opinion.  This may be an emerging challenge to scientific credibility…
"A key feature of science is researchers' ability to reproduce experiments – to conduct a reality check on another group's work by using its materials and following its methods, then comparing the results."

"It's a way to separate results worth building upon from those that aren't, either because a research team was careless, overlooked something, misinterpreted data, or at worst, fabricated results." [5]
I applaud the students for their paper confirming the J-Pole and Slim Jim have essentially the same gain and similar performance.  At least their work provides another simulation confirmation (HFSS in this case) the Slim Jim DOES NOT have 3-6 dB more gain than a J-pole as some web sites advocate.
Good habits of Slim Jim users – an untold advantage
There are many reports of Slim Jim users claiming a vast improvement in their radio enjoyment with the replacement of some antenna with a Slim Jim.  Pondering why this might be, let's first examine a few habits of J-pole users in general…
J-pole users know feedline choking is important – they may not know why, but most follow this rule so the feedline doesn't spoil the antenna pattern.  Good.
J-pole users are wildly confused about whether to ground it or not thanks, in part, to contradictory statements in the literature.  Some literature mandates the J-pole must be grounded to a mast to function as an antenna: OMG. 

Bad

.
Then we have the Slim Jim users.  Many, of course, use the ladder line variants and because those are mostly self-contained, hang from a rope, choke the feedline, and don't have a conductive mast, they should work about as well as a dipole can.  However the following good habits of the copper pipe Slim Jim users include…
Slim Jim users know feedline choking is important – they may not know why, but most follow this rule so the feedline doesn't spoil the antenna pattern.  Good.
Slim Jim users know mast currents are a problem – they may not know why, but most follow the rule to isolate the structure of the Slim Jim from the mount to avoid mast currents.  Good.
The above points about Slim Jim users suggest, in my opinion, they have better installation instructions that should apply to all J-pole antennas.  Feedline and mast currents can spoil any antenna's pattern rather dramatically.  Readers of this blog know all too well my trumpeting of mast current concerns here, here and here.  Neither antenna will operate correctly if mast currents remain unchecked.  It's not a stretch to suggest Slim Jim users have the advantage merely because the various Slim Jim instructions address mast currents along with feedline currents whereas J-pole users often only properly address feedline currents.
Note to Slim Jim manufacturers
All the above suggests casual observers, and even those in academia, may not know better or draw desired conclusions contrary to their own data.  You manufacturers, however, need to step up to a higher standard of quality control and vet the designs you sell.
For you copper pipe 2BCX Slim Jim manufacturers out there claiming a gain over a traditional j-pole, isn't it time you quit revealing to the planet your obvious lack of antenna design capability?  It's well worth your while to research the product you sell.  If you want to manufacturer an antenna that uses more materials than a traditional J-pole with no measurable benefit, fine, but don't mislead your customers about nonexistent gain advantages.
This admonition does not apply to manufacturers of roll-up ladder-line variants of the 2BCX Slim Jim since the extra conductor is there anyway so connecting at the top (or bottom or both) adds little cost.
Note to J-pole and Slim Jim customers
Beware bogus claims
Beware any ham radio website, antenna vendor or antenna manufacturer making any of the following knee slapping statements:
This Slim Jim has a freespace gain of 6 dBi (no basis in fact);
This Slim Jim has 2-3 dB gain over a J-pole (The two antennas are end fed dipoles, no more, no less, but with a little interaction from the quarter-wave stub);
The J or Slim Jim antenna has more than 2-3 dBd gain (mistaking dBd for dBi);
The Slim Jim and J-Pole have different take off angles (evidence clearly shows otherwise).
These are a pretty good pass/fail litmus test of functional antenna knowledge.  Some of the available products and designs have sound mechanical design, superb price point, and for as much as they have successfully rendered the classic designs, functionality as a good basic antenna.  You may decide to purchase their product or make their design, but you can now do so with realistic expectations – not gain hype.  I suspect your biggest benefit will derive from properly addressing common mode currents on the mount and feedline because this is an easy way to ruin any otherwise functional antenna.
Beware gain claims in dB (rather than dBi or dBd)
Any antenna manufacturer stating gain as simply dB without a relational qualifier are stating nothing really.  Professionals state gain in dBi and only in freespace.  Some non-professionals state gain in dBd, but this hasn't been convention in professional antenna engineering for quite some time.  Fortunately the relationship between the two is dBi = dBd + 2.15 so given one, the other may be accurately derived.  If you want to look like you know what you are talking about, use only freespace gain given in dBi for non-ground-mounted antennas.
Beware gain claims over ground
Antenna manufacturers sometimes state gain over ground (often to inflate gain claims), but the variables of height, ground conductivity and dielectric properties are too varied to provide a consistent measurement.  Gain in freespace is the only universal way to compare antennas.  That said, it is very important to understand how an antenna will behave in a particular installation, over the local ground, on a case by case basis.  This is an important part of a site study, not a way to compare antenna behavior.  Both freespace gain and site-specific gain are important… just don't confuse the two.
Beware "SWR Only" manufacturers
With few exceptions, be critical of antenna manufacturers that don't publish freespace simulations or chamber measurements of their products.  Most "SWR Only" manufacturers, have stellar intent, but are running blind as to actual antenna behavior; There are some who seem to have "the knack," but these are exceptions.
Beware hand drawn antenna patterns
Question: What's worse than no antenna patterns for an antenna product?
Answer: Hand drawn antenna patterns for an antenna product.
If any antenna web site, but especially manufacturer's sites, generate antenna patterns by hand (using a computer drawing package for example), know they are expressing what they "think" or "expect" an antenna pattern to be, not necessarily what the pattern is – Hurl.  My watch says this is the 21st century.  Unless you're Lindenblad or Hoverman's ghost, the practically free NEC tools and other not so free FDTD, etc. tools are the only acceptable methods to critique an antenna's performance.  The college students mentioned above use simulation… so should a manufacturer.  Sure these tools have their quirks, but there are just too many variables to track.  These tools track them all effortlessly.
So… if you visit a web site and an antenna pattern reminds you of the colorform fun of your youth, or looks like this, or this, the chances of sufficient technical literacy in the surrounding text are questionable.  Move on.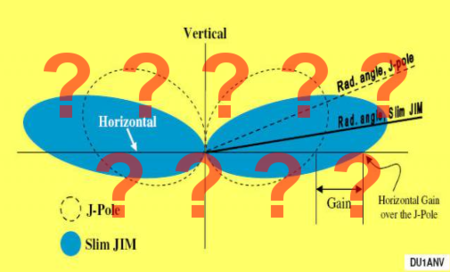 Just say no to juvenile antenna analysis.
My list
Here is my list of Slim Jim makers who pass my "don't make false claims" test:
I'll keep searching.
Conclusion
The Slim Jim antenna doesn't provide any practical benefit over a traditional J-pole.  Point by point…
Judd's definition of Slim, not unique – Any J-pole antenna meets Judd's definition for Slim;
The term JIM, not so new – Judd may have coined the "JIM" term, but is described in the 1936 patent;
Simulations say, 'no difference' – The college students' and my personal simulations confirm the Slim-Jim and Traditional J-pole antennas operate exactly the same for all practical purposes;
Various simulation methods agree with each other – NEC (both EzNEC and 4nec2), HFSS (from the college paper) and FDTD all produce the same basic pattern for the J and Slim Jim – about 2-3 dBi.
Measurements confirm simulations – My chamber measurements agree quite well with the simulations.  There's no question in my mind my simulations and measurements tell the same story.  Therefore I have confidence the other variants in figure 3 are just as similar to a traditional J;
Comparison

kerfuffle

– Judd's choice to compare his 2BCX Slim Jim with a 5/8 wave GP, while perfectly reasonable and technically accurate, was unfortunately the perfect storm of confusion for a great many – it will be many years, if ever, before today's mess vanishes.  The college students' conclusion conflicts with their very own data showcasing the general bafflement and outcome bias among a startling variety of otherwise skilled people;
Waste of copper pipe – The extra parallel pipe in the 2BCX Slim Jim is material that provides no detriment, but no benefit whatsoever to antenna performance… except slightly wider bandwidth.[4]  Note: Slim Jim antennas made from twinlead already have the extra wire so there is no waste;
Perceived benefit likely mast current mitigation – It's very easy to reduce j-pole performance simply by connecting it to a long mast.  The general advice to RF isolate a 2BCX Slim Jim from its mount is superb advice for any j-pole and is a likely reason for observed improvement.
The exceptionally handy role-up ladder-line examples aside, the copper pipe 2BCX Slim Jim antenna uses more materials to accomplish the same thing as a J-pole.  Why bother.  You're better off using the extra copper pipe as a mast decoupling stub in the Mast Mountable J-Pole Antenna.
As seen above, both the Slim Jim and traditional J-Pole antennas provide a measurable benefit to dipoles and monopole antennas using radials.
The J-pole and the Slim Jim achieve similar performance.  Can we put this Slim Jim gain myth to rest please?
Don't agree?
I've spent a good amount of time and effort to prove to myself the Slim Jim is really just a folded dipole with freespace patterns very similar or practically the same as a regular J antenna.  I've shared the results with you in the figures above.
I would love to be proven wrong.
If you have chamber measurements or a NEC model that shows the Slim Jim has a freespace gain well beyond 3 dBi, the readers of this web site would love to see it.  I will gladly share such results with the readers if you send me the report and/or model.
References