Bonus points are important for the annual ARRL Field Day event in June.
If you are thinking of participating in your local club's Field Day festivities or are heading to the campground with your family for a Bravo station, bonus points are available.
One of my favorites is the Alternate Power Field Day bonus.
To quote the ARRL Field Day rules for 2009…

"7.3.8. Alternate Power: 100 bonus points for Field Day groups making a minimum of five QSOs without using power from commercial mains or petroleum driven generator. This means an "alternate" energy source of power, such as solar, wind, methane or water. This includes batteries charged by natural means (not dry cells). The natural power transmitter counts as an additional transmitter. If you do not wish to increase your operating category, you should take one of your other transmitters off the air while the natural power transmitter is in operation. A separate list of natural power QSOs should be submitted with your entry. Available to Classes A, B, E, and F."
Last year one of our club members brought a fold out solar panel array. Originally he hooked it up to a FM HT. The solar panels powered the HT just fine, but no one was on the air to make contact with.
Then an Elecraft K1 transceiver arrived. Hmmm…
Since the K1 is an HF transceiver one of the other stations (we were 4A last year) would have to cease operation while we operated the solar powered station.
No problem. We went to our CW tent and…
Disconnected the antenna coax from the main CW transceiver (a Yeasu FT-2000 by the way – nice)
Connected the antenna coax to the K1
Flipped the solar panels out along the ground
Hooked up the power to the K1
One person operated the key and the K1
While the person in the CW tent logged the QSOs on the N3FJP Network software
and made note of these particular QSOs as "Alternate Power" contacts
Logged five Alternate Power QSOs
Reversed the process to get the CW Station back the way it was and continue to operate normally
Done!
Here is our K1 operator, logger (in the tent) and the impressive solar array…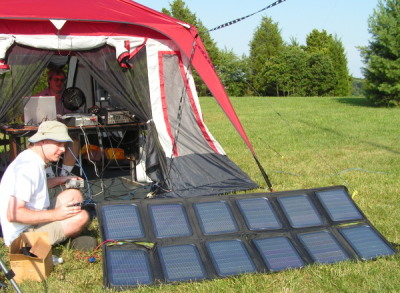 This was pretty easy really.
In this case, the low current draw of the Elecraft K1 really helped. We did not need any temporary storage from a battery in parallel with the solar output. It all just worked straight off the solar power source. Nice.
You may desire to try the above and I really do suggest it. It is fun. If your rig needs a bit more power than the K1, consider adding the battery and letting it charge for a bit before making those five QSOs.
I hope to hear all of you on Field Day. Good Luck.