Update from actual event below.
Scroll down if you want to see the results right away.
Original article follows…
You are invited
All are invited to participate in the 2012 attempt at passing the APRS Golden Packet along the Appalachian Trail.
Since 2009 we have crept ever closer to the goal with last year being the closest yet.
Collaboration with other events – Public Service?
Ever the collaborator, Bob Bruninga (WB4APR), changed the event date from a Sunday to a Saturday July 21st to coincide with the Boy Scouts ON TARGET event.
Below is a map showing the various APRS station locations spaced about 100 miles apart. Using "HOP7-7,HOP7-7" paths provides the opportunity to have one packet traverse all 14 hops to the 15th station… in either direction. This unusual mega hopping works in part because we do it on the quiet 144.340 MHz rather than the general purpose 144.390 MHz frequency.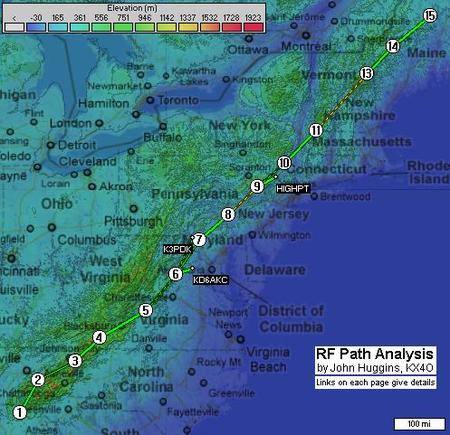 The Northern Virginia station is #6. K3PDK and KD6AKC are hams who kindly recorded APRS packets from their homes for later review.
The next image, from the www.aprs.org web site, showcases the various links achieved in 2011…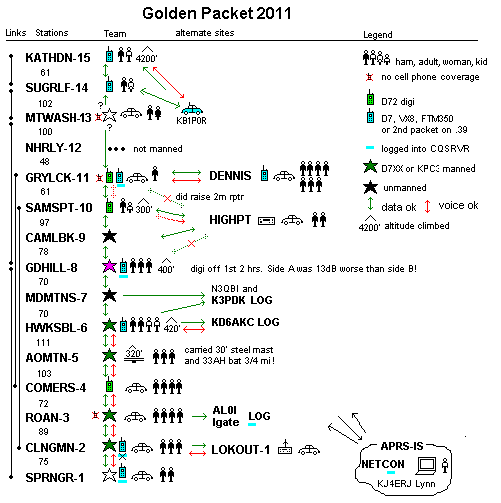 This image highlights the many folks, both ham and non-ham, who participate in making this event possible.
Station 6 moves around
In 2009 and 2010 Station 6 was located near the WV, VA border on the edge of a rock outcrop called White Rock Cliff; It was quite a hike, but well worth it. The APRS signals north and south were fantastic. We even heard Station 8 on voice.
Last year, we moved to the much closer Hawksbill Mountain along Skyline Drive. We ran RF Link calculations to verify this location would work. It is not as good as White Rock Cliff, but plenty strong enough to easily make link to Stations 5 and 7. This location is much closer to our homes and an easier hike.
This year we move once again to a new peak just north of Hawksbill called Stony Man. The links are very slightly weaker than Hawksbill, but simulate S9. We don't get the chance to hike very often so moving Station 6 allows us to explore new peaks while participating in the ATGP.
Join us on Stony Man Mountain
Any hams (and non hams) wishing to participate are more than welcome to join us on Stony Man. We will meet at the north trailhead at the North entrance to Skyland about 9:00 to 9:30 am. We will have the APRS radio set up from 11 am to at least 2 pm so join us later on the summit if you like. Bring your HT as you may be helpful to any scouts participating in the mirror signaling ON TARGET event. Bring your own signal mirror too if you like.
Record our APRS Packets
Another important way to help from your home is to tune your APRS system to 144.340 and record any packets you receive to a text file. Sharing this file with the event organizers after the event is enormously helpful.
Frequencies
We will likely be on the Warrenton Repeater while driving to the parking trailhead. 147.165+ PL167.9.
Once there we will have "talk-in" on UHF 445.925 MHz (no tone) simplex.
From 11 am till at least 2 pm we ask to please refrain form transmitting on VHF while near or on Stony Man so as to not desense the 144.340 APRS frequency.
An APRS task, some public service, some hiking all rolled into one
It is not often Amateur Radio hits as many bullet points as this event will on Saturday July 21st, 2012. It should be fun. Please join us.
John, kx4o
UPDATE: Results from Stony Man GP 2012
It was a cloudy day, but we were successful setting up Station 6 for the ATGP chain up the Appalachian Trail. We used the same gear from last year's Hawksbill Mountain station.
Sunscreen a good idea even with clouds
Though cloudy, we quickly discovered burning UV came at us from all angles causing minor skin burning underneath shade.
Some pics
Waiting Game
Unlike SOTA and other ham radio trail events, this one involves patiently waiting during the four hour period.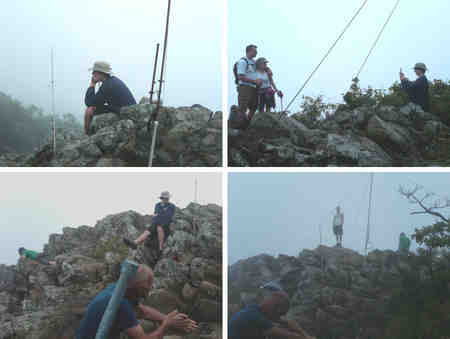 Conclusion
We came closer than ever passing the Golden Packet up and down the trail, but not quite. Station 6 performed well and we had good packet and voice contact with Dick and Dave north and south of us. We could hear the next station north direct at times.