I have experimented with Radio Mobile for a few years. If you have not tried using it, you should. It is a free RF link analysis program that uses geographic elevation data to help you determine the obstacles between two radio stations.
The details of this program's capabilities are too numerous to mention here so please visit the web site here…

A few months ago I stumbled onto Bob Bruninga's "Appalachian Golden Packet Attempt" web page at…
You probably recognize Bob's name as the creator of the Automatic Packet Reporting System (APRS) protocol. Bob is, apparently, interested in things related to the Appalachian Trail (AT). In an effort to combine interests, Bob is organizing an APRS link from the south to the north end if the AT.
Combining Hiking, Camping, Amateur Radio and Packet Radio is something I just could not resist. Bob needed an organizer for the Virginia station in his proposed system. I jumped on the chance.
If you visit Bob's site you will see he has done a good job of scoping out the line of sight links using Google Earth. Because I was familiar with Radio Mobile I decided to profile each of the links of the AT Golden Packet Event to see what it had to say. The details of this analysis are documented on this web site here…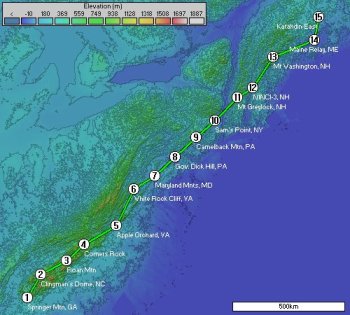 /
This proved to be a fantastic opportunity to exercise Radio Mobile and finally use it for something productive. Have a look at the various links to see the detail output from Radio Mobile.
The good news is each link looks to be in good shape. This confirms Bob's original analysis was pretty good. The only thing missing from the Google Earth approach was, perhaps, the affect of the Earth's curvature.
So the next step is to document the results of each link to see if Radio Mobile's predictions are reasonable.
A few lessons learned already include:
The elevation data files are enormous and take a very long time to download
The Space Shuttle SRTM1 files are an excellent value for the tax payer
Radio Mobile takes a while getting use to, but once you have punched through doing a few maps and links once, becomes easy
The power of Radio Mobile seems to be incredible, but verification of its predictions awaits the AT Golden Packet Event in late July 2009.