A friend is exploring antenna choices at his QTH and needs advice on some new antenna styles to try.
I stopped by for a visit to discover a very large yard with ample room for all kinds of wires antennas.
One issue my friend has it noise on his current antenna.
While his home is an excellent blank canvas waiting for lots of amateur radio antenna possibilities, I thought a full-wave loop might be a real good next-antenna to try.
Which full-wave loop to try first: 40 meter, 80 meter, 160 meter, more?
Google Earth comes to our aid with the excellent program.
Here is a view of my friend's home…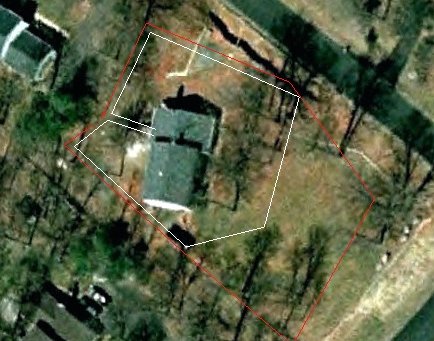 Using the excellent tools in Google Earth I added two notional loop possiblities: a red line loop as large as the yard, and a 160 meter full wave loop in white. Isn't this a nice big yard?
For the while loop I included the feed line as part of the total loop length to ensure a reasonable loading appears at the feed point in the house.
Using Google's measuring tools I confirmed the white loop's length to be around 525 feet or so including both sides of the transmission line. The red loop is about 680 feet total.
Simulations reveal the usual big lobes at higher frequencies and good behavior at low frequencies.
The big question is do we take full advantage of the yard and make the great big loop, or do we stick with a 160 meter full wave loop and live with that?
Anyone have any thoughts?