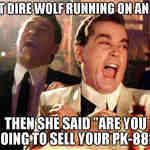 Packet radio death… greatly exaggerated?
"[. . .] the report of my death was an exaggeration." S. Clemens
Given the numerous new products available for packet radio I wonder if it might be enjoying some sort of revival.  The Kentucky Packet Network certainly provides a new way of thinking about packet that builds on lessons learned from packet's previous reign.
New packet system planning
I'm considering rolling out a Virginia Packet Network (VAPN) in Fauquier County, Virginia.
Some questions to the readers of this blog:
Do you still use packet radio?
What is the topology?  (single frequency with many nodes, many nodes on several frequencies, etc.)
What historically packet radio services do you find the most useful (BBS, Chat, clusters, etc.)
If you are no longer a packet radio operator, what would entice you to try it again?
If you never were a packet radio operator, what would make you give it a go?Can you provide any other input into my feasibility study?
If you were to rollout a brand new system without regard to any current or past habits, what would it look like?
Would you like amateur radio to provide an alternative to today's paid communications services?
Thanks for any help and answers to the above questions.  Please send them to john.huggins.ee@gmail.com.  I'm trying to get a fresh perspective on the utility of packet radio in the context of the 21st century. Asking these questions of potential users is an important step in proper planning.