You all might be wondering if Blogger John, that's me, has finally tip toed off the deep end with this review of the new LED lamps as a replacement for incandescent lamps.
Yes, yes I know it is a bit of a reach. However, this is somewhat of a technology web site and ham radio does have tech savvy folks.
The topic of ham shack lighting is certainly important for good operating ergonomics. Can the amateur radio operator benefit from the latest advances in home lighting products?

My ham shack is in a recently finished basement. The previous home owners made a small finished rectangular room with a closet and other nice features perfect for an office. My wife angled towards that room, but I immediately pronounced the dining room as her office. No we don't use the dining room ever so that made good sense. Now I had a basement room all to myself. Directly above what is clearly meant to be a desk location is one of those recessed can ceiling lights with a flood in it. For years I have said to myself I would replace that with more efficient lighting when that lamp goes. Elsewhere in the room are three more directed lamps in a protruding ceiling fixture. I replaced one with a CFL flood.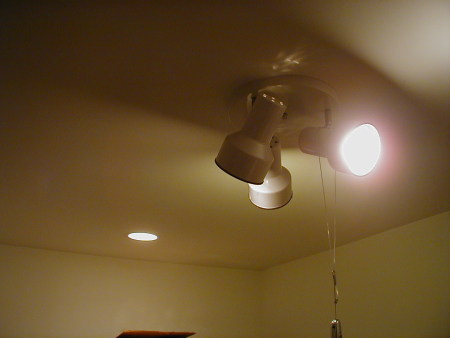 More thoughts on lighting came about when my good friend Bob purchased an LED light for his California home. He pays about 30 cents per kWh – ah California. For him the savings is a big deal. He paid about $70 for some model of LED light that replaced one of the lights used for area lighting. The LED light model is compatible with dimmer circuits which he has in all his home lighting to gradually bring up and down incandescent lights greatly reducing the shock to the filament.
Anyway, I looked up LED lights on the Internet and found lots of possibilities, but all were very expensive and not likely to pay back anytime quick. Still the models available were pretty neat. Some offered the possibility of changing colors and come with a remote. Hmmm mood lighting in a room… that's for another blog, not HHD.
The world of CFL lamps is here and we have quite a few. Yes they contain mercury, but very small amounts. We have replaced a few non-dimmer-circuit lamps with CFLs with good success.
My metric to consider LED lamps was pretty simple. As soon as they appeared in Wal-Mart I would start paying more attention.
Well what do you know, I was at Wal-Mart this morning to fetch some TP and wandered through the lamp section. LED Lights. A whole 18 inch of shelf space dedicated to LED lamps. They had two, maybe three models. I thought about my ceiling light directly over the ham shack desk and selected the "longneck" GE Energy Smart PAR30 24° flood. This thing cost $40 at Wal-Mart. Wow.
Then I visited Home-Depot for another reason and, lo and behold, they had about 1 foot of shelf space dedicated to LED lights too. I picked up a Phillips "BC7R20/AMB/FL25 WW 1200V 4/1" lamp. That's some model number. This example cost $27.
These units are a bit different in their purpose shape and function, but both would directly replace my ceiling desk light. Comparative specifications include:
| Specification | Phillips | GE Flood |
| --- | --- | --- |
| Model | BC7R20 | CGPAR30LEDLN |
| Volts/Watts | 120V/7W | 120V/10W |
| Light Output (Lumens) | 155 | 320 |
| Lumens per Watt (Calculated) | 22 | 32 |
| Color | 3,100K | 3,000K |
| Life (hours) | 40,000 | 20,000 |
| Compatible with Dimmers | No | No |
| Compatible with sealed, totally enclosed, Luminaries | No | No |
| Weight (Mass) | 6.4 oz (181 g) | 11.8 oz(335 g) |
| Cost | $27 | $40 |
| Made in… | China | China |
Let's have a first look at our new LED Light possibilities. Here they are in their original packaging…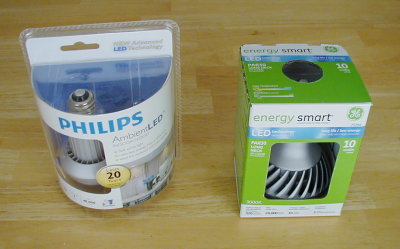 I really hate the Phillips plastic packaging. Yes it is recyclable, but not as easily as the GE cardboard packaging. One point to GE for this.
Here are the two LED Lamps out of their packaging…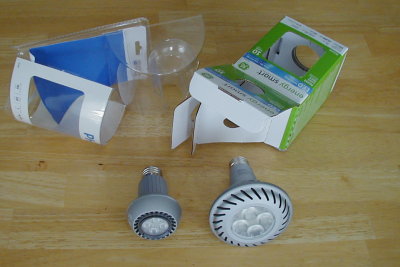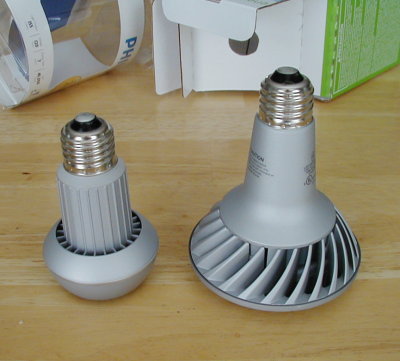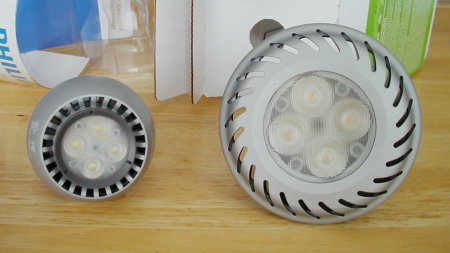 It appears there are four active LEDs in each lamp. Obviously there is circuitry within each that rectifies and regulates the voltage to the appropriate levels. The turbo, air duct, look hints at the requirement for good air flow. Here are close up views of each LED Lamp…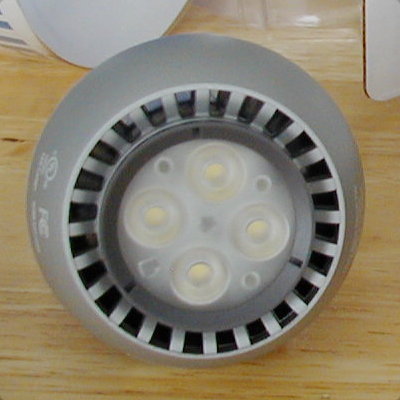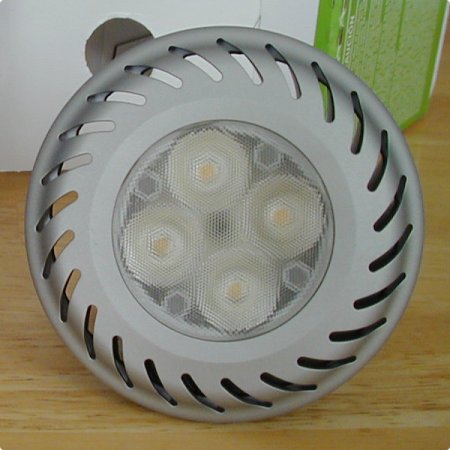 For lack of real test data here are some performance photos showing the relative coverage each offers. The test simply aimed each at the ceiling the. Each photo shows the light pattern…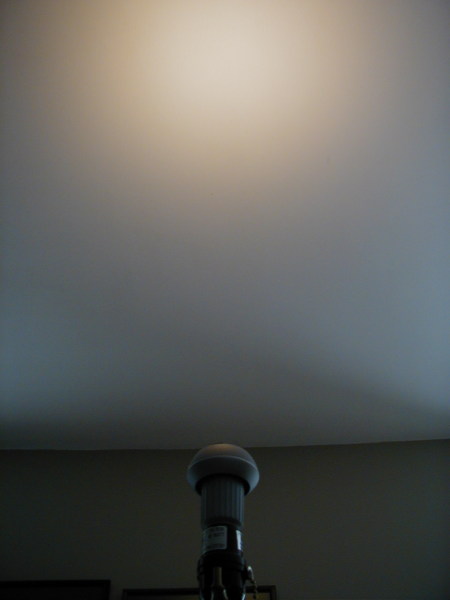 …, but for real use, here are comparative photos (un-retouched) showing three scenes each with Philips LED Lamp, GE LED Lamp and 65 Watt Flood Lamp respectively…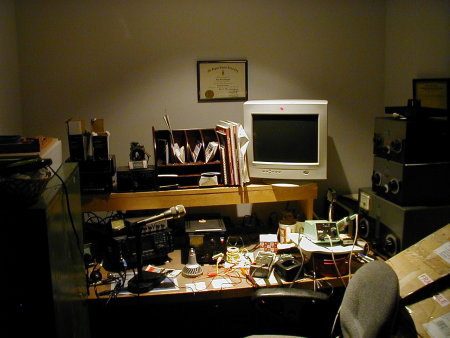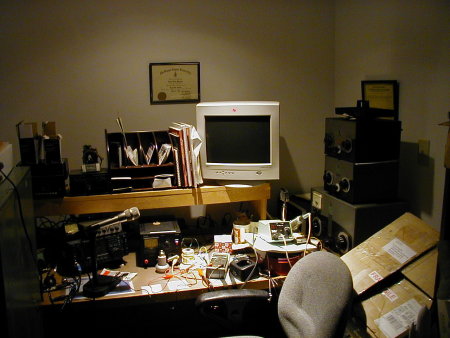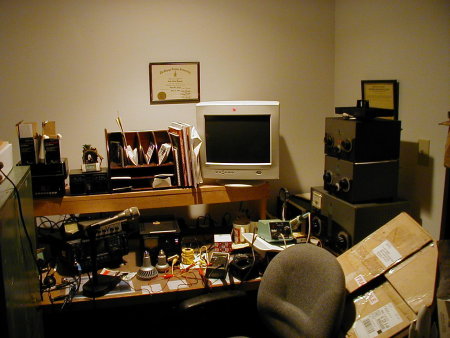 Yes I know the shack is a mess; I was quite busy preparing for the APRS Golden Packet thing – It's a ham shack isn't it. You can tell the 65 Watt incandescent flood does a fine job, but the real point is, do we need all that light splashing around the room. Opinions will vary, of course, but if we have an environmental goal in mind we should consider savings all around to include…
Use task lighting only where needed – Each of these LED Lamps does this pretty well – So do desk lamps
Consider CFL spots and/or flood lights where practical – Watch out for overheating in sealed fixtures
One of the best tips of all is turn off the lights when you are not using them
Because of their low power consumption, these LED Lamps might be great for Field Day to lighten the load on generators
Possible issues of the LED Lamp offerings, like those above, include…
Can the circuitry (rectifier and regulator) inside the LED Lamp tolerate lightning surges?
Even if the LEDs themselves are rated for the long life printed on the lamp packaging, is the circuitry also capable of that long a life?
Do these things emit RFI? The BIG Question Indeed
If used on a Field Day exercise with generators, can the circuitry tolerate the often ugly generator power?
Can the socket hold the significant additional weight of these units? The incandescent 65 watt flood weighs just 2 oz. (57 g) compared to 3x more for the Phillips and 6x more for the GE!!
A final point to consider is the high cost… for now anyway. The payback benefit based on my current electricity cost from Rappahannock Electric Coop price of 13cents/kWh for the Philips is within the promised lifetime of the lamp, but that does not take into account all the many factors of money including possible opportunity cost of not using that money for investments, etc. You can run the numbers anyway you like, but really your real reason for trying the LED Lamp today is the desire to use less energy, not save money.
LED Lamps are pretty ridiculously expensive even if they go 20,000 hours or more. However, their appearance in Wal-Mart and Home-Depot suggests a turning point from the esoteric to mainstream. I am going to put the smaller unit in my overhead ham desk ceiling fixture for now and see how it goes. I will conduct some simple RFI tests to ensure I don't raise the noise floor of my radio; I will report the results here. I purchased these lamps to give HHD readers a first look at the upcoming alternatives to ergonomic lighting of their operating spaces. I hope to hear about your experiences with LED Lamps.
73
John