Patent application US20170201002A1
Another click of the USPTO's rusty ratchet yields the publication of my patent application concerning the taming of mast currents from the ubiquitous J antenna by use of a mast decoupling stub.
Timeline
This patent process has been going on for quite some time.
December 2014 – measured data verifies problem with the J antenna and confirms adequacy of proposed solution;
January 8th, 2015 – Presentation entitled "The J-Pole Antenna: Myths and Facts" given to members of AMRAD establishing public publication date;
January 7th, 2016 – Provisional patent application filed;
January 6th, 2017 – Non-provisional utility patent filed;
July 13th, 2017 – Non-provisional utility patent application US20170201002A1 published by the USPTO.
It will likely be another couple years before the next action by the overwhelmed USPTO. Living long enough to see a patent through the process is almost as hard as writing them.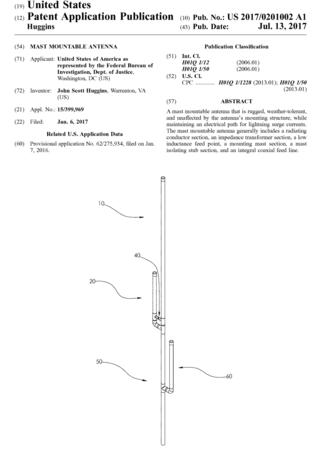 Update October 2018
We received notice from the USPTO concerning the above patent application. Rejection of course with reasons laid out. Pretty normal. Now onwards to defense.