After examination of several NMO Mobile Mount Options in a previous post, I shrunk the field to two choices: a 3/8″ and a 3/4″ inch both from Laird.
I definitely notice a strong bias toward the use of the 3/4 inch hole mount over the 3/8 inch. Reasons vary from "It's Stronger" to "You can install entirely from the outside" to "The whole mount plus its cable can be removed and re-installed into another vehicle."
The last two points seem perfectly valid and are very good reasons to go with the 3/4 inch mount. The first seems like wishful thinking.
To get a better idea of how these mounts mount, I took a scrap piece of metal and punched four holes in it: two 3/8 and two 3/4 inch holes. I mounted the two Laird contenders into two of the holes. The remaining two holes are simply there for reference.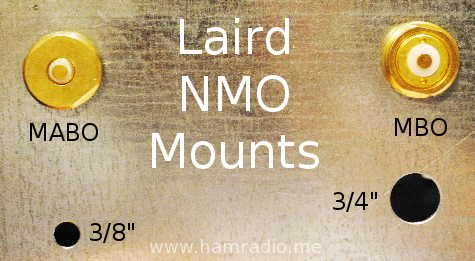 I am not entirely sure why I did this, but the test plate provided me a way to see how these mounts function up close and personal. I also handed the test jig to several mechanical engineers, a few machinists and others who have nothing to do with mobile mounts. I wanted their honest unbiased assessment of which style mount is stronger. They all took a good hard look at each mount both from above and below. Here is what they saw…
Their thoughts summarize to:
The 3/4 inch mount with its much larger thread area between the top antenna piece and the bottom foot should be stronger than the far more narrow thread coupling of the 3/8 inch. That said the universal feeling is other parts of the mount and/or the mounting surface will fail before either threaded coupling.
The foot of the 3/4 mount grabs at the tips of the flange while the 3/8 mount engages far more area of the mounting surface.
Most folks appreciate the unique ability of the 3/4 mount to install completely from one side. One was heard to say… "Nice."
All mentioned if push came to shove, the 3/8 inch would win the "Let's rip the antenna off the vehicle" test since two little flange tips are a lot less "grabbing" area than the entire flange.
Most said, however, both designs would probably damage the vehicle long before they failed. They were quite impressed by the whole NMO mount approach.
I installed the 3/8″ mount on my Taurus along with a 19 inch whip. It works just fine and looks trim and neat. Does it work better than my mag mount? Well, maybe just a little, but testing awaits.
I know I wish I had these pictures before I bought "one of everything" to examine. I hope the pictures above allow readers of this site to make a better informed choice for their next through-hole antenna installation.